Dental Implants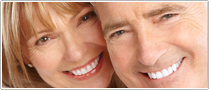 "Dental Implant" "Replacing Teeth, Restoring Smiles."

An Implant is a small titanium screw-like fixture that serves as the replacement for the root portion of a missing natural tooth
The Implant is placed in the bone of the upper or lower jaw. After the placement, the implant has to fuse with the bone (titanium is one of the best materials to integrate with natural bone) which can take a couple of weeks.

Treatment time will depend on your situation. It is possible to get well functioning and esthetic looking teeth within a few days. At the Final stage you will get brand-new teeth which are strong and similar to natural teeth.

Dental implants can be used to replace a single lost tooth or a number. Implant supported replacement teeth look, feel and function like natural teeth, they preserve the integrity of a facial structure and improve the look and function of a jaw. Once the screw-like fixture is safe, a dentist will screw in an actual dental implant that is made to look and replace natural tooth. An Implant will be placed either on the lower or upper jaw. A successful implant will resemble and function as your natural teeth.

Basically anyone who is missing one or more of their teeth due to injury, disease, or decay may be a candidate for dental implants. Dental implants can be placed due to many reasons such as :
Injury
decay or
Gum diseases

Types of Implants :
Single tooth Implant
Multiple teeth Implant
Full Jaw fixed Bridge on Implants
Implant supported Removable Denture

The rule of thumb is that if you're healthy enough to have a tooth extracted, you're probably healthy enough to receive dental implants.

Types of Anesthesia which can be used :
Local Anesthetics
General Anesthetics

There may be some discomfort after the procedure but this is usually be minimal and can be significantly reduced – or eliminated – with a help of painkillers.

If you decide to go ahead with the implants you should know that advantages of using dental implants for replacing missing teeth are the following:
First of all, bone loss is stopped when implants are placed and they can't be damaged by decay.

The success rate is quite high. Dental implant are bio-compatible; they are made out of titanium that fuses with bone, naturally. Implants can stabilize dentures as well and it's almost impossible to damage them.

Implants can improve facial appearance as well as dental function such as biting and chewing.